Wednesday January the 27th at noon a protest is planned. The event is planned to be a peaceful protest calls for people to come out and show up in numbers at unemployment offices across the state of Ohio. The state of Ohio has cut off unemployment for struggling unemployed workers across the state. The state of Ohio ceased paying many individuals unemployment insurance in December. People took to social media to find answers and have found out that others are hitting a brick wall as well. No correspondence from the state has come to these many struggling workers as their situations grow worse. Many who have commented here as well as on groups that have popped up in social media over the last month tell tales of people losing housing, cars, getting utilities shut off and even suicide. Still, no correspondence to unemployed workers desperately waiting for some financial assistance. Despite the 11 weeks unemployment extension signed by President Trump at the end of December 2020 which carried a $300 extra weekly benefits, Ohio has failed to distribute funds to the unemployed and has failed to contact workers who were abruptly cut off.
Ohio's response to questions was to treat unemployed workers as criminals. Governor Mike DeWine has said he is Sorry, but most workers are having a hard time paying their rent and car payments with a "sorry" yet alone the fees and penalties they are facing from late bills. A reddit page created by and for unemployed workers in Ohio struggling with this jumped to well over 700 members in less than a week. The Facebook group Hold Ohio Unemployment Compensation Responsible has spiked to well above 6 thousand members who are frantically posting and begging for answers. People are reporting the conflicting information coming from Ohio Department of Job and Family Services (ODJFS). It seems that the front-line workers have been kept in the dark as to what is going on and have been given no answers for those on Unemployment in the state. Various dates of changes have been given to people when they call, and people are being given conflicting information.
The state has been quick to rush to the media to address fraud and some accounts sound a lot like almost all on unemployment are being treated as if they are committing fraud before they are able to continue receive unemployment benefits.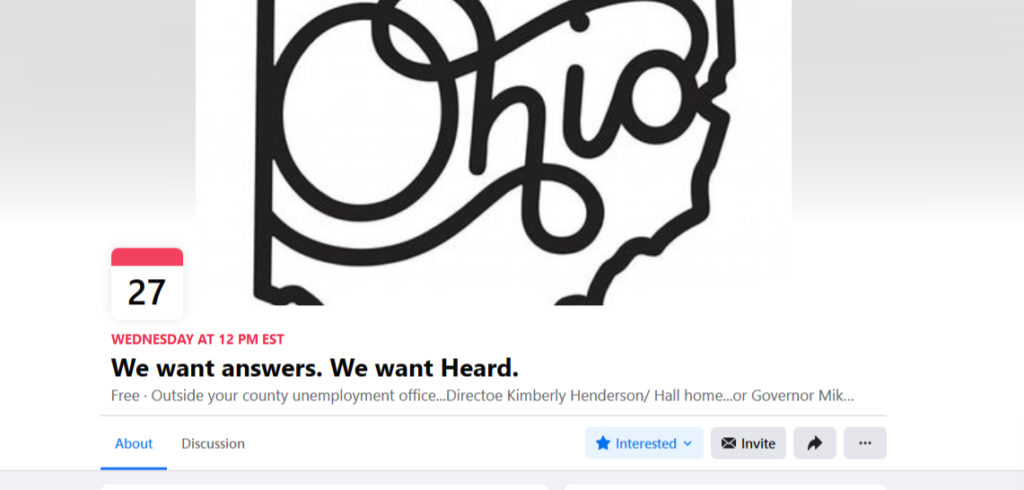 Some are calling for a peaceful protest this Wednesday, January 27th at noon. It calls for people to protest at local unemployment offices, Governor Mike DeWine's home and the house of the house of ODJFS Director Kimberly Henderson. Ohio has no unemployment offices, so the protests seem to be planned for the Ohio Department of Jobs and Family Services across the state. They are calling for as many to come out as possible so they can be seen and heard. People feel unheard, ignored and are getting desperate. Poverty and desperation are not a good combination, but it seems to be the combination that the state of Ohio is okay with as long as nobody in charge is able to be held accountable for the suffering of the unemployed workers of the state.